THIS 23 YEAR OLD RWANDAN IS BEHIND THE VIRAL 'THIS IS AMERICA' CHOREOGRAPHY
To say that Childish Gambino's 'This is America' has enjoyed huge success might be putting it mildly. From inspiring several adaptations such as rapper, Falz' 'This is Nigeria' to garnering over 210 million views and 4.8 million likes since its release on the 5th of May, there's no doubt that the song's social impact has been global.
While a lot has been said about the incredibly talented music star and actor, Gambino; we delved a little deeper into looking at the team that helped bring it all together. Sherrie Silver stood out for not just being African and female, but for her immense talent.
Her brand slogan which reads thus: 'Taking Afrodance to the world and taking the world to Africa' already gives a brief introduction to the fierce dancer's ethos.
Born in East Africa's Rwanda, the 23-year-old dancer and choreographer isn't only passionate about dance. Her need to make social impact can also be seen with her work from building vocational centres for women with troubled pasts, to street child rehabilitation, to her dental facility which she erected to help over 203 kids in Nigeria's rural town of Ajegunle;  it's clear to see that the philanthropist is set to ensuring she changes lives across Africa through various means.
Silver, who is passionate about traveling, and has visited over 30 countries, says that she "lives on a plane," typically en route to teach dance classes around the world, perform with artists like Wizkid, act in films, or do philanthropic work in various African countries. The dancer who moved to England when she was only five years old, began her humble journey into the dance world as a teenager where she began filming, editing, and uploading her African dance moves, which she has tagged: "Afro-dance" on her YouTube channel, while simultaneously earning a university degree in business marketing.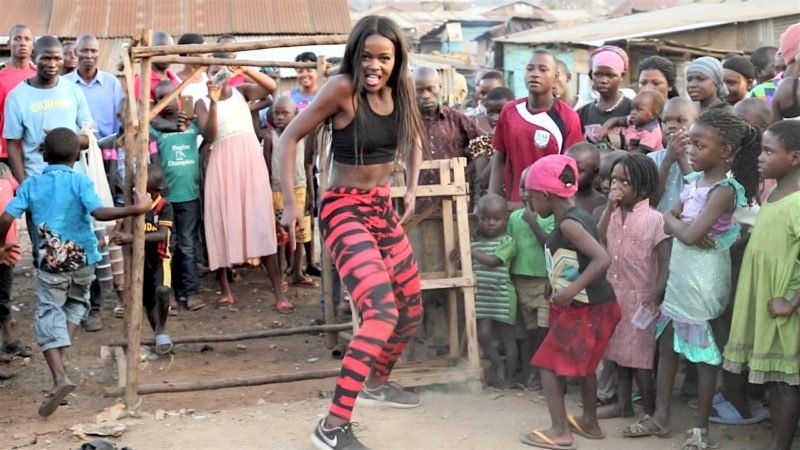 Gambino would later discover her via this Youtube page, after she had performed on the Saturday Night Live show. He was particularly interested in the Gwara Gwara dance which is a dance that originated from South Africa.
Gwara Gwara has been the dance that everyone wants to do and learn. It looks simple, but it's actually difficult to do. I lived in South Africa for two months while filming a movie, so I became quite familiar with it. I also included the Shaku Shaku dance from Nigeria, the Alkayida from Ghana, the Azonto from Ghana, and other moves that don't have names, as well."
Silver also comments on the school kids dancing in the video, which she says was supposed to signify the happy parts of the video, as there was a lot of commentary on many things wrong with America, many parts we would also find a bit morbid.
Her involvement with the video went beyond just wanting to work with one of the most influential and politically opinionated artists out there.
Being a part of the number one trending video means a lot. I don't just do this for fun. I really do it because I want to give back. I travel and teach African dance from all over the continent. I take the money I generate from teaching back to Rwanda, Uganda, and Nigeria to redevelop schools and help get homeless kids off the street. For me, it's not just about dancing. It's the actual outcome that matters most.
Once again, Africa is being placed on the global map in a way that is not only empowering but flattering. For that, we have women like Sherrie Silver to thank.
---
---
---