Iceland has marked its first-ever loss of a glacier to climate change as scientists warn that hundreds of other ice sheets on the subarctic island risk the same fate.
As the world recently marked the warmest July ever on record, a bronze plaque was mounted on a bare rock in a ceremony on the barren terrain once covered by the Okjokull glacier in western Iceland.
Around 100 people walked up the mountain for the ceremony, including Iceland's prime minister, Katrin Jakobsdottir, former UN human rights commissioner, Mary Robinson, and local reseachers and colleagues from the United States from who pioneered the commemoration project.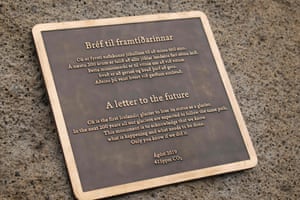 "I hope this ceremony will be an inspiration not only to us here in Iceland but also for the rest of the world, because what we are seeing here is just one face of the climate crisis," Jakobsdottir said.
The plaque bears the inscription "A letter to the future", and is intended to raise awareness about the decline of glaciers and the effects of climate change.
"In the next 200 years all our glaciers are expected to follow the same path. This monument is to acknowledge that we know what is happening and what needs to be done. Only you know if we did it," the plaque reads.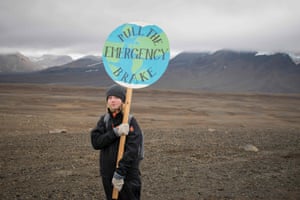 It is also labelled "415 ppm CO2", referring to the record level of carbon dioxide measured in the atmosphere last May.
Julien Weiss, an aerodynamics professor at the University of Berlin who attended the ceremony with his wife and seven-year-old daughter, was one of those moved by the occasion.
"Seeing a glacier disappear is something you can feel, you can understand it and it's pretty visual," he said.
"You don't feel climate change daily, it's something that happens very slowly on a human scale, but very quickly on a geological scale."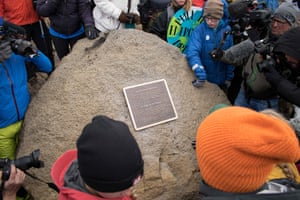 The plaque is "the first monument to a glacier lost to climate change anywhere in the world", according to Cymene Howe, associate professor of anthropology at Rice University in Texas.
"By memorialising a fallen glacier, we want to emphasise what is being lost – or dying – the world over, and also draw attention to the fact that this is something that humans have 'accomplished', although it is not something we should be proud of."
Iceland loses about 11bn tonnes of ice per year, and scientists fear all of the island's 400-plus glaciers will be gone by 2200, according to Howe. Glacierscover about 11% of the country's surface.
Glaciologists stripped Okjokull of its glacier status in 2014, a first for Iceland. In 1890, the glacier ice covered 16sq km (6.2 square miles) but by 2012 it measured just 0.7sq km, according to a report from the University of Iceland in 2017.
In 2014, "we made the decision that this was no longer a living glacier, it was only dead ice, it was not moving", Oddur Sigurdsson, a glaciologist with the Icelandic Meteorological Office, told AFP.
As the crisis escalates…
… in our natural world, we refuse to turn away from the climate catastrophe and species extinction. For The Guardian, reporting on the environment is a priority. We give reporting on climate, nature and pollution the prominence it deserves, stories which often go unreported by others in the media. At this pivotal time for our species and our planet, we are determined to inform readers about threats, consequences and solutions based on scientific facts, not political prejudice or business interests.
More people are reading and supporting The Guardian's independent, investigative journalism than ever before. And unlike many news organisations, we have chosen an approach that allows us to keep our journalism accessible to all, regardless of where they live or what they can afford. But we need your ongoing support to keep working as we do.
The Guardian will engage with the most critical issues of our time – from the escalating climate catastrophe to widespread inequality to the influence of big tech on our lives. At a time when factual information is a necessity, we believe that each of us, around the world, deserves access to accurate reporting with integrity at its heart.
Our editorial independence means we set our own agenda and voice our own opinions. Guardian journalism is free from commercial and political bias and not influenced by billionaire owners or shareholders. This means we can give a voice to those less heard, explore where others turn away, and rigorously challenge those in power.
SOURCE: THEGUARDIAN.COM
PHOTO CREDIT: EN.AZVISION.AZ