EASY WAYS TO TRICK YOURSELF INTO LOVING THE GYM
The after effects of working out are great: toned body, more energy, and a healthier mind. However, the journey there is not cute, at all. First off, the actual act of getting up to go to the gym if you choose to go in the mornings or going after work if that's your more preferred time is a process in itself.
You are not alone, so we have devised a few tricks that work for getting your butt in the gym:
Get a gym friend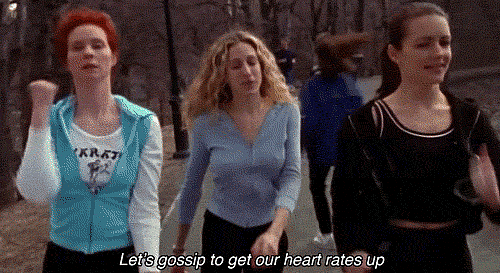 Gyming with a friend will have you looking forward to making those daily rounds to the gym especially because you won't be as terrified to looking silly when lifiting those dumbbells and there's more to look forward to besides the gym, you know your friend will give you the load down of your favourite series which you missed the day before or that fight at the office that she's been itching to tell you about all day. Either way,  it's a lot more fun to look forward to.
Invest in nice workout gear
It's not like I need another excuse to shop, but purchasing some get-fit gear is a fashionable excuse to hit the elliptical. Whether it's purchasing a couple sports bras in your favorite colors, yoga pants that make you feel like squats are life, or dope running sneakers, you have very limited occasions to rock these items and it certainly isn't at your desk.
Try a new class
You have your gym friend sorted. Trying out a new class creates a new opportunity to have something more to talk about and if you both are awful at it, it's great memories to laugh at together so no losses here. Trying out a new class will also help with the gym becoming too repetitive.
Create a workout payroll
I once heard of someone who started paying herself after she completed a workout. If she completed her weekly minimum limit which was 3 days a week, she'd drop some money in a care. She would give it an actual figure. The jar would be kept in a visible spot in her room so that she could see her progress and act as a reminder that it only gets fed if she puts in some sweat equity.
The best part about this workout payroll is that not only are you sculpting your body, you're giving your savings account some added muscle definition.
Take a selfie
It's ok to show off a little as you log in those hours. It hasn't been a walk in the park so you're allowed to gloat a little. Taking selfies regularly will also help with tracking your progress at the gym.
What are some things that you do to motivate you to work out?
---
---
---